Buckeyes
16oz. (4 3/4 c.) xxxx sugar
1 1/2 c. peanut butter
1/2 c. oleo
1 t. salt
12 oz. chocolate chip bits
2 oz. paraffin
Blend sugar, peanut butter, oleo, vanilla, and salt. Ball and dip in mixture of melted chocolate chips and paraffin.
from : Liquid Plumber
Mississippi Mud Cake
2 sticks of butter
1/2 c. cocoa
2 c. sugar
4 eggs slightly beaten
1 1/2 c. flour
pinch salt
vanilla
chopped nuts
miniature marshmallows
Melt butter and cocoa together. Remove from heat and stir in sugar, eggs. Mix well. Add flour, salt, chopped nuts, and vanilla. Mix well. Spoon batter into greased 13 x 9 x 2 pan and bake at 350 for 35 min. Sprinkle marshmallows and frost. (For frosting, combine 1 box powder sugar, 1/3 c. cocoa. Add 1/2 stick butter and 1/2 c. milk. Mix well and spread on hot cake over marshmallows.)
From: Liquid Plumber

Irish Whiskey Pie
Servings:

chocolate ready-to-use pie crust 1/4 c. Irish whiskey
1 envelope unflavored gelatin 1 T. mint jelly
2 3/4 c. whipped topping 2 T. sugar
2 eggs, separated green food coloring
2/3 c. light cream dash salt

Combine gelatin, 1 Tablespoon sugar, and salt in saucepan. Beat egg yolks
lightly. Add egg yolks, cream and whiskey to gelatin mixture. Cook over low
heat, stirring constantly, until mixture thickens slightly. Stir in mint
jelly. Chill until mixture begins to thicken.
Beat egg whites to soft peaks. Beat in remaining sugar until mixture holds
a stiff peak. Fold meringue and 2 cups whipped topping into custard mixture.
Add green food coloring to desired shade. Turn into crust. Garnish with
remaining whipped topping and refrigerate until firm. Let stand at room
temperature for 2 hours before cutting.

Source: "Tacoma News Tribune"
Date: 5 Apr 88 Clover All Over
The "G.H. Upside Down Money Traveling Mind Swag"
1 c. water
1/4 t. baking soda
1 1/2 t. milk
1 stick butter
1 can of root beer
2 drops of tabasco sauce
3 c. flour

Stir together for 5-10 min, bake at 350 and serve, or throw at someone you don't like very much.
Source: G.T.'s amazing cookbook of huh?
Electric Mountain Goat Strips
Mix together:
3 egg yolks
1/2 c. milk
1/4 c. shortening
1/3 c. red kool-aid
1 stick of butter
A dash of pepper
A hand full of crunched up chips
2 c. flour
1 c. water
Mix for 10-15 min. refrigerate over night, bake at 350 for 1 hour and enjoy!
Source: G.T.'s amazing cookbook of huh?
Bankhead Lemon Swirls
1 1/2 cup flour
2 cups water
1 cup shortening
slice 2 lemons in half and squeeze as much lemon juice as you can inside the mixing bowl
1 t salt
2 t vanilla
3 squirts of ketchup
Mix for about 10 minutes, pour batter into cupcake cups and bake at 250 for 30-35 mins..Then enjoy :o)
*excellent breakfast appetizer*
Beer and Cheese Soup

1 cup diced onions
1 cup diced celery
1 cup diced carrots
1 cup diced mushrooms
3/4 cup butter
1/2 cup flour
1 tsp dry mustard
5 cups chicken or vegetable stock
1 bunch broccoli
11 fl oz beer (use a can or bottle and save a swallow for the cook!)
6 oz cheddar cheese, grated
2 tblsp grated parmesan cheese
salt & pepper to taste
Instructions:
-------------
Saute' the diced vegetables in butter.
Mix flour and mustard into sautaed vegetables. Add the chicken or
vegetable stock to mixture and cook for five minutes.
Break broccoli into small flowerets; cut stems into bite-sizes pieces.
Steam until tender-crisp. Add beer and cheeses to the soup. Simmer
10-15 minutes. Check seasonings.
To serve, place some broccoli into a soup bowl and ladle the soup over it.
From: arielle@taronga.com (Stephanie da Silva)
Buffalo Chicken Wannnngs

Seasoning Mix (Makes 2 tblsp plus 1 3/4 tsp)
2 tsp salt
2 tsp paprika (mild, or Hungarian hot paprika)
1 tsp cayenne pepper
1 tsp onion powder
1 tsp garlic powder
3/4 tsp white pepper
10 tblsp (1 1/4 sticks) unsalted butter, in all
1 tblsp plus 1 tsp Tabasco sauce, in all
24 chicken wings, tips removed, room temperature
2 cups vegetable oil
Blue Cheese Dressing (recipe follows)
Celery sticks (optional)
(Yield: 8 servings)
Instructions:
-------------
Thoroughly combine the seasoning mix ingredients in a small bowl.
Melt 5 tablespoons of the butter with 2 teaspoons of the Tabasco sauce
in a small saucepan over low heat. Pour into a small shallow bowl or
pie plate, and let cool slightly.
Put the chicken wings into a large bowl and coat well with 2 tablespoons
of the seasoning mix. Add the butter/Tabasco mixture and work in well
with your hands until chicken is completely coated and seasonings are
well distributed. (Make sure the chicken wings are at room temperature;
otherwise, the seasoning mixture will congeal and you'll have a mess of
gunk that won't stick well to the chicken.) Set aside to marinate (for
up to 30 minutes, covered) and heat the oil.
Heat the oil in a large heavy skillet over high heat until it is very
hot. Add the chicken wings, fitting in as many as there is room for in
a single layer. Fry until crisp and golden brown, about 8 to 12
minutes, turning several times. Drain on paper towels. Repeat with the
remaining wings.
Meanwhile, make a sauce to finish the wings by melting the remaining
butter and adding the remaining Tabasco and seasoning mix. Dip the
cooked wings into the finishing sauce and place on a serving platter.
Serve with the Blue Cheese Dressing and celery sticks, if desired.
From: arielle@taronga.com (Stephanie da Silva)

Please Submit your recipes to me, I will add it and your name, web site, e-mail..etc
Submit your recipe!
---
---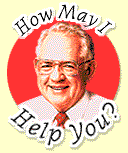 Meet Dave Thomas!